JPI Europe projects MUFFIN, SURF and INXCES hold their joined end project event in Malmo, Sweden. Climatecafe Malmo contributed to capacity building and raising awareness. An impression:
Climatecafe Malmo
Climate change is making our living environment more vulnerable. We need to learn how to become sustainable and resilient. The Climatecafe is a interactive fieldwork based event with practical examples of climate adaptation. Climatecafe is an multidisciplinary approach, bridging the gap between research, applicability and societal effects. Climatecafe Malmo raised awareness telating to (all) UN SDGs Sustainable Development Goals, exchanging knowledge with: >25young professionals, >10 nationalities, >15 disciplines.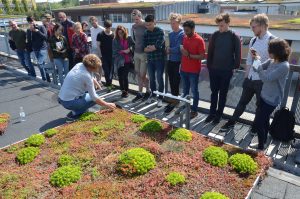 Climatecafe Malmo was organised with 9 European Universities engaging with multiple disciplines:
mapping over 150 climateadaptation measures in Malmo
measured the efficiency of swales in Augustenburg (result: saturated infiltration capacity of 1cm/hour)
demonstration and participation in full-scale infiltration tests
mapping of pollutants in SuDS with XRF
measure water quality with ROV and underwaterdrones
heat stress mapping with sensors on bikes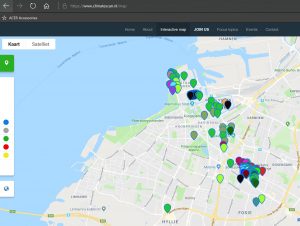 The results are presented at the seminar of the JPI Water projects INXCES, Muffin and SURF 'Rain cities and Risks. The results is helping stakeholders to develop and implement climate adaption measures.
Other projects as #WaterCoG and #Reconect provided a toolbox for governance during the climatecafe. Young professionals from the young leaders program of the Global Centre of Adaption coordinated the climatecafe. More impressions: https://www.climatescan.nl/projects/3375/detail
Find more info about SuDS in Malmo here and more about this event here: https://www.climatescan.nl/projects/2713/detail.
Follow us on Twitter for updates and results.
Organizing Partners:
INnovation for eXtreme Climatic EventS (INXCES) Partners:
Norwegian University of Science and Technology (NTNU)
University of Applied Sciences Groningen (HUAS), The Netherlands
Luleà University of Technology (LTU), Sweden
Technical University of Civil Engineering of Bucharest (UTCB-CCIAS), Romania
Geological Survey of Norway (NGU)
MULTI-SCALE URBAN FLOOd FORECASTING (MUFFIN) Partners:
Swedish Meteorological and Hydrological Institute (SMHI), Sweden
Aalborg University (AAU), Denmark
Delft University of Technology (TUD), The Netherlands
Aalto University (AU), Finland and Swedish Geotechnical Institute (SGI), Sweden
SUrF (Sustainable Urban Flood Management) Partners:
Lund University
Sweden Water Research
Region Skåne
Höje å Vattenråd
Länsförsäkringar Skåne
Göteborgs stad, kretslopp och vatten