Urban flooding and thermal stress have become key issues for many cities around the world. With the continuing effects of climate change, these two issues will become more acute and
will add to the serious problems already experienced in dense urban areas around the globe.
Climatecafe 'stresstest Fryslan' involved young professionals dealing with a combination of innovative tools to address
these challenges. For the whole province of Fryslân (The Netherlands) flood maps and heat stress maps were
developed and used for the comparison analysis. Young professionals mapped more than 350 climate adaptation Best Management Practices on www.climatecan.nl: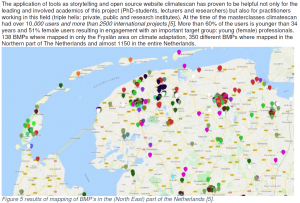 The involvement of young professionals (capacity building) raised awareness on climate adaptation and delivered a calibrated stresstest for Fryslân with detailed calculations of flood risks and heatstress in the city. Best practices and climate adaptation strategies are created in masterclasses: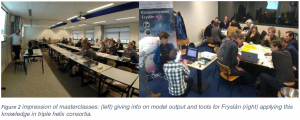 Stakeholders have a detailed insight in the vulnerability and resilience of their district and have
concrete examples and plans to implement climate adaptation measures in the near future.
Climatecafe Stresstest Frysland ended in Leeuwarden, where the students and young professionals shared their views and experiences on stage for hundreds of people.
Get inspired by this vide impression:
More impressions and results can be found at: https://www.climatescan.nl/projects/1367/detail
Stresstest Fryslan
Concrete priority problem locations where located with models and climate adaptive measures were selected in masterclasses in the period of January 2017 to June 2018 in a triple
helix consortium with students and young professionals.
The scale of this climate adaptation stresstest is considered the biggest and detailed in the world due to the high tech computing and the participation of all stakeholders involved.The masterclasses help stakeholders to follow the 3 step climate adaptation strategy 'analyse, ambition, act' with a
focus on the first step 'analyse' that raises awareness and provides insights on the resilience to climate change of a
specific area. The evaluation of the involvement of young professionals and project results by the stakeholders was very positive. Read more:
Boogaard F, Fliervoet J., Doutsen K., Lasonder J. Veeneman K., Hoornstra P., Flood and heatstress modelling for climate adaptation, results of 'Stressttest Fryslân', RRAU (Resilient Responsible Architecture and Urbanism), Groningen, 10-12 April 2018.