The Butuanon RiverScan 2018 (with Mandaue City Philippines) started 11 November 2018 and measures, map, scan and assess different (water quality) parameters that together give insight in the vulnerability of the river and surrounding urban areas.
This challenge and the results of passed city climatescans is  presented at 'Emerging Sustainable Stategies for Climate Change',  10 November in Manila and at The International river summit (http://4thinternationalriversummit.org).
An impression of RiverScan:
For more info: https://www.climatescan.nl/projects/2683/detail
WHY? Cities are becoming increasingly vulnerable for effect of urbanisation and climate change and there is an urgent need to become more resilient. The research involved the development of a set of measurement tools that can be applied in different urban neighborhoods in a low-cost low-tech approach with teams of stakeholders and practitioners. The city scan method was tested in different cities around the globe in groups of young professionals and stakeholders in rapid urban appraisals.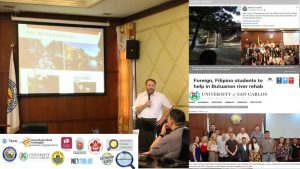 Butuanon River Scan 2018
The Mandaue Rive Scan Challenge 2018 in Mandaue City, is a collaboration between Dutch and Filipino universities and the City of Mandaue. The Butuanon river is a polluted river and interventions have to formulated to clean up the river and prevent further pollution of the river.
The purpose of the Mandaue River Scan is to analyse the quality of the river water, to assess the plastic pollution along the river banks and to capture the perception of residents that live along the Butuanon river.
Six mixed teams of Dutch and Filipino students will work together in a 10 days challenge and present their innovative solutions to make a cleaner Butuanon river upstream, midstream and downstream. Each solution will be presented to representatives of Filipino LGU's at the Mandaue International River Summit. 8 Dutch and 22 Filipino students will work together in 5 groups of five students. Each group will work on a specific challenge. Site visits, interviews with residents, location and stakeholders analysis, expert consultation, measuring techniques and workshops are part of the program. Students will work together intensively in an intercultural setting. In addition to this a floating vegetated island, a litter trap and a constructed wetland will be implemented, which enhances the public awareness of waste and water management.
Organizing Partners:
Rotterdam University of Applied Sciences
University of San Carlos
Hanze University of Applied Sciences
City of Mandaue
Students of University of San Carlos, Rotterdam and Groningen University of Applied Sciences and National