City Climate Scan Challenge Cebu 2017
To address the pressing issues caused by rapid urbanization and climate change, the Ramon Aboitiz Foundation Inc. (RAFI) and the University of San Carlos (USC) take a comprehensive planning and strong collaboration among its stakeholders.
October 8-13 in 2017, several students accepted the challenge in City Climate Scan Challenge held in Cebu City. Several students and professors from the University of San Carlos, together with their counterparts from the Rotterdam and Groningen University of Applied Science, National University of Applied Science and National Cheng Kung University from Taiwan participated in a weeklong challenge which provided a platform for the participants to conduct a field study on actual urban challenges particularly on waste and water management in Cebu City.
City Climate Scan Challenge is a collaboration between different educational institutions (USC, RUAS, HUAS, NCKU), NGOs (RAFI, VHC), and the City of Cebu which aims to discuss present situation of the waste and water management in the province, as well as to plan strategies and innovative solutions to address this issue.
The five day challenge kicked-off with a primer on the current situation of water supply and waste and water management of Cebu City by Chief of Ambient Quality Monitoring Section of DENR-EMB 7 Engr. Cindylyn Pepito, Cebu City CENRO Head Ms. Ma. Nida Cabrera, and Engineer Lemuel Canastra of MCWD held at the Cebu City Hall. It was then followed by a series of lectures and site visits prior to their field study. The participants were divided into groups, and were deployed to their assigned study areas where they conducted interviews with local residents, stakeholder analysis, and expert consultations.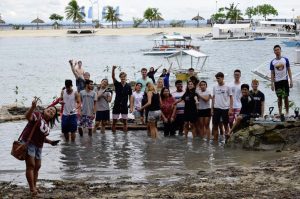 Mega Cebu also organized yet another edition of Understanding Choices Forum with "Waste and Water Management amidst Rapid Urbanization and Climate Change" as theme for the culminating activity. Members from different stakeholders, university students, different LGU representatives and organizations, gathered at RAFI Plenary Hall last Friday, October 13. In the morning session, the students underwent a "pressure cooker test" wherein they presented the results of their study as well as their proposed solutions to the identified problems in front of a panel of judges under a limited time. The afternoon session, on the other hand began with a ceremonial signing of the Memorandum of Understanding between RAFI led by the President and COO Dominica B. Chua and RAFI-EADSC Executive Director Evelyn Nacario-Castro, and Rotterdam University of Applied Science, Institute of Built Environment representative Rick Heikoop, a Senior Lecturer on Water Management.
This partnership calls for the collaboration between the two parties to address water management of Cebu. "Partnerships and collaboration among different sector can create a ghost buster to solve the wicked problems." Evelyn Nacario-Castro, RAFI-EADSC Executive Director, said.
Photos and videos of the event can be found at: https://www.climatescan.nl/projects/2195/detail
(From: https://www.rafi.org.ph/rafi-usc-launches-first-city-climate-scan-challenge/)